Victory Vap TKO Gamer Shafts
00219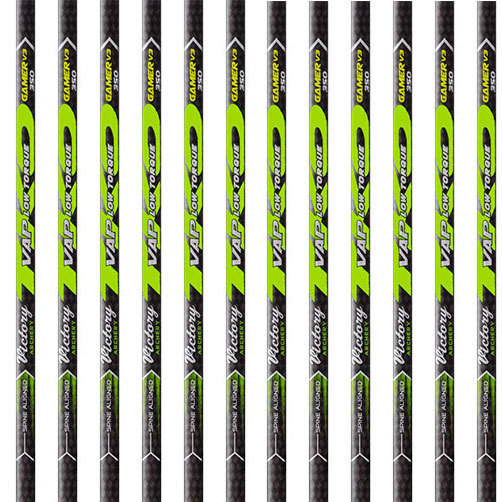 The new VAP TKO is quite simply the most advanced carbon fiber arrow ever available. If you are looking for maximum kinetic energy, coupled with unmatched penetration, then the new VAP TKO is the right arrow choice. Featuring MaxxKe™ Technology, the outer layer of carbon fiber is oriented at ±45° direction to reduce the twisting force imparted on the arrow during launch. This reduction in torsional deflection greatly increases kinetic energy and accuracy. The VAP TKO offers the same legendary speed and accuracy of the original VAP with a higher grain weight for maximum killing power. The VAP TKO looks like no other arrow on the market because it performs like no other arrow on the market.
The most advanced carbon arrow
Victory's engineering team has developed a game changing advancement in arrow performance. Utilizing ultra thin layers of carbon fiber encased in a proprietary toughened resin system with a ±45° orientation, these arrows feature MaxxKe™ Technology that will resist the twisting forces generated during the shot cycle. The bow thereby transfers the maximum designed energy into the arrow for greater long range accuracy and penetration.
Spine
300 (0) 350 (0) 400 (0)
Would you like your arrows cut & inserted at no extra charge?
Yes (0) No (0)
Would you like a dozen or a half dozen?
12 Arrows (0) 6 Arrows (-89.99)
Would you like to add Field Points?
No (0) Yes, (12) 100 Gr. Points (0) Yes, (6) 100 Gr. Points (0) Yes, (12) 125 Gr. Points (0) Yes, (6) 125 Gr. Points (0)