Swarovski DS 5-25x52 Riflescope
34683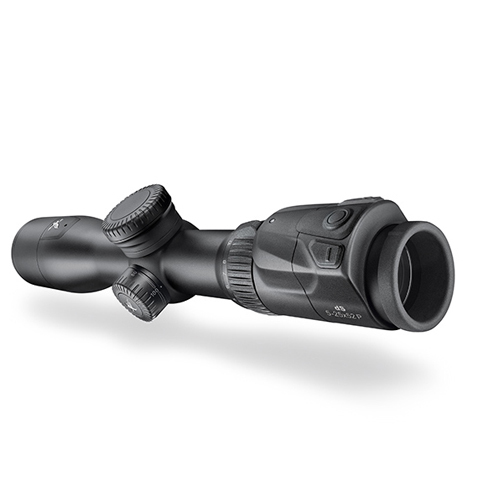 Available for Pre-Order, Purchase today to reserve your spot on our waiting list!
START SMART
What you're after when hunting is to aim accurately and hit the target with a precise shot. We do everything to give you the best possible support. One way is via the smart technology in the dS rifle scope. The high-resolution head-up display provides you with all the relevant data to help you have a successful hunt.
dS 5-25x52 P L
The dS projects relevant information in the field of view in real time without any distraction, and automatically displays the correct aiming point. This includes taking into account all the key factors, such as distance, air pressure, temperature, and angle. No manual adjustment is required. The aiming point is calculated on the basis of the individual ballistic data for the firearm-ammunition combination. The data are input via the dS Configurator app and the calculated ballistic curve is transferred directly to the dS via Bluetooth. This product is not available in the USA and Canada.
Visit our dS Configurator and subtension dimension program for additional useful information.
Technical Data
Effective objective lens diameter (mm)
48-52
Exit pupil diameter (mm)
9.6-2.1
Exit pupil distance (mm) (Eye relief)
95
Field of view (ft/100 yds / m/100 m)
21.9-4.5 / 7.3-1.5
Field of view (degrees)
4.2-0.84
Field of view, apparent (degrees)
21.5
Dioptric compensation (dpt)
-3 to +2
Twilight factor acc. to ISO 14132-1
14.1-36.0
Impact point corr. per click (in/100 yds / mm/100 m)
0.25 / 7
Max. elevation / windage adjustment range (in/100 yds / m/100 m)
43/25 / 1.2/0.7
Parallax correction (yds / m)
55-∞ / 50-∞
Objective filter thread
M 63x0.75
Technical Data
Length (in / mm)
15.87 / 403
Weight (oz / g)
38.4 / 1090
Central tube diameter (mm)
40
Functional temperature
+14 °F to +131 °F (-10 °C / +55 °C)
Storage temperature
-22 °F to +158 °F (-30 °C / +70 °C)
Submersion tightness
13 ft / 4 m water depth (inert gas filling)
Illumination unit
Measurement range (yds/m)
33-1500/30-1375
Measurement precision (yds/m) +/-
1/1
Angle measurement (degrees) +/-
60
Max. aiming point correction (yds/m)
1120/1024
Add-on program (App)
dS Configurator
Operating system
iOS from Version 8.1, Android from Version 4.4 KitKat