Canyon Cooler Prospector 103
4036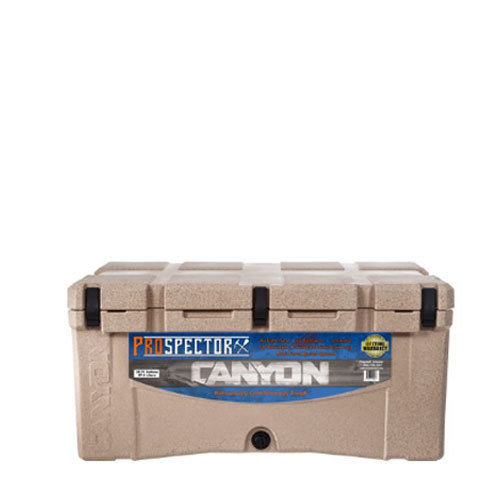 Rafters, Angles, and Boating Enthusiasts: Get ONBOARD with the new Gold Standard in ICE RETENTION
Mud, blood and beer is just another day to 'The Prospector'. Tougher then any boot leather, stubborn, shameless and indomitable, the Prospector encapsulates the spirit of a pioneer operating at the edges of where the unknown meets the truly wild. We designed and built our Canyon Cooler Prospector as a labor of love and a stand up salute to those who explore and seek such places on their terms: 'The Very Hard Way'.
Canyon's new flagship cooler, the Prospector, is built incredibly strong featuring a premium polyethylene RotoMolded fat walled shell filled with high-density foam. The Prospector rocks thicker walls then anyone else where it matters most: where your ice is sitting. This monster ice chest is virtually indestructible, it can easily take on the use and abuse of countless rapids, fishing trips or the rough waves of boating excursions in stride.
The Prospector ties down with 6 built-in tie down areas, accomodating the roughest seas, worst roads and wildest rivers you can throw at it. If that's not enough, the Prospector also sports accomodatng strap channels both over the top and underneath for super secure mounting like any true adventure box should have. For 2017 we now include ONE FREE BASKET on the Prospector.
The completely recessed and protected latches, drain plugs and handles are super protected from rough handling, they avoid stray fishing line, and allow us to offer a lifetime warranty.
Often that 'perfect' spot on your rig doesn't give you access to the drain plug. The Prospector defeats this problem - no longer do you have to wrestle the beast just to smash your hand into an impossibly small space. The Prospector comes with both a front and side no-lose drain plug, both fully recessed like our handles and EZCAM latches. Everything is protected and super functional.
Baskets don't sound exciting, and so it was time to twist it up. This ice chest can accomodate up to 4 tiered baskets for the ultimate in expedition organization. Drop the basket on to the lower lip, and load it up, later when it's time to reorganize just turn the basket 90 degrees and it fits into the top lip. Need a divider? The Prospector accomodates that, too. (One Basket is included with your purchase.)
Front and side drain plug
3 lid latches and heavy contouring keeps the seal spot-on and resists warping
103 quart capacity, that's 12% bigger then a Yeti 110
Weight: 39.5 lbs.
Great fit for marine applications
Fits the Aire 156 raft like money and just squeezes into a Aire143
Great for offshore sport fishing casting or scouting water
Dimensions:
Outside: 18.56" H x 37.5" L x 21.25" W (at the widest point)
Footprint at base: 36.98" L x 17.98" W
Set your raft frame opening to 20" on center
37.5" long below lip
18.75" wide below lip
13" high from lip to center of cooler
13.75" high from lip to bottom of cooler end
Interior height:13.7"
Interior base: 13" W x 31" L
Interior at top: 15.5" W x 32.25" L
Beastly Insulation:
Huntsman High Density PU foam,
Walls: 2.76 - 2.99" thick
Lid: 3" thick
Floor: Up to 2" thick
Source:
Huntsman High Density PU foam : Alabama
Polyethylene Shell: Thailand
Seal: New Jersey
Design: Flagstaff, Arizona
Company: family owned and based in Flagstaff, Arizona. A 7000' high mountain town known for hunting, rafting, the Grand Canyon and a collection of great outdoorsey characters.
Warranty:
Lifetime (or 1 year commercial use)
Bear Certification: YES IGBC #5094